Microprocessor controlled, full automatic, sinusodial line interactive LCD panel uninterruptible power supply.
Home – Office computers, also suitable for all devices fed by 220VAC.
General features

• Wide input voltage and ve frequency range
• Sinusodial waveform
• Automatic 50Hz/60Hz input frequency detection
• LCD screen and alarm features
• Automatic battery test characteristic
• Automatic switch on an off haracteristic
• Audible warning
• Overload, short circuit, lighting protection
• Switch off the inverter in a minumum time
• Battery management
• LCD Screen for battery capacity and load capacity
• RS 232 /USB supported- optional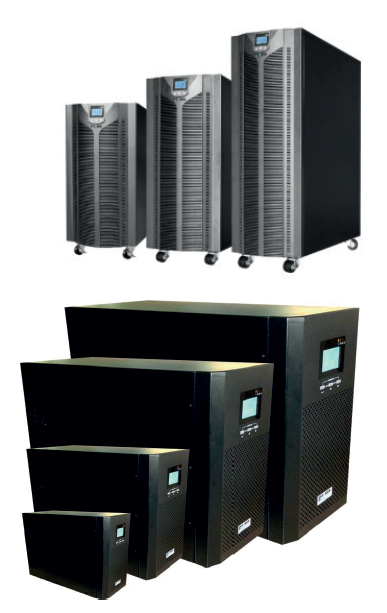 POWER 11 GOLD
1 Phase lnput / 1 Phase Output
• lndependent from input voltage and frequency
• According to VFI-SS-111 Standard
• DSP Controlled IGBT Rectifler-lGBT lnverter
• Wide lnput Voltage Range
• High lnput Power Factor (>0,99)
• High Effciency up to 94% at On-Line Mode
• High Effciency up to 94% at Eco Mode
• Adjustable charge setting with software
• Pure Sine Wave Output, Low Harmonic Distortion StaticAnd Manual Bypass
• Electromagnetic And RFI Protection
• 4×20 LCD Panel For Detailed lnformations about battery, input, output, fault parameters
• lntelligent Battery Charge System extend the Life
• Time of Batteries
• Small Dimension, Modular Design, Rack Mount Capability, Flat or Tower Application
• Advanced Communication via RS-232 Serial Port, Smart Free Contact Relays Output, SNMP Support
• Smart Fan Speed Redulation For Silent Operation
Special İnput/Output Parameters (Optional)
PWR 33
PW 33 (10-80 kV) series, PWM (Pulse Width Modulation) and IGBT technology, microprocessor controlled, sinusoidal waveform, ONLINE Double Conversion, when requested power increase, to make backup Connected in parallel or redundant uninterruptible power supplies. PWR 33 series UPS systems, three phase input – output is designed as a three-phase, threephase devices are all working in this way can be fed safely. PWR 33 series UPS supplies serial computing rooms (server and client) computer, communication and telecommunication systems, GSM devices, precision medical equipment, industrial automation systems, CNC machines, laser cutting machines, and textile machinery. The voltage drop in the network, the promotion, protection from sudden peaks and from electrical outages.
Specifications
• Galvanic isolation Transformer on output
• 92% Efficiency up
• Parallel operating feature
• Emergency shut off switch connection
• Static by-pass feature
• Maintenance by-pass feature
• LCD front panel
• Microprocessor controlled
• Event memory
• Remote monitoring
• Automatic and manual battery test
• SNMP-compatible communication
• RS232-485 and dry contact outputs
• Special manufacturing input / output
• values according to the needs
• Compliance with international standards
• 2 years warranty for the device and battery
• 10-year spare parts guarantee
• Authorized service and customer support
services